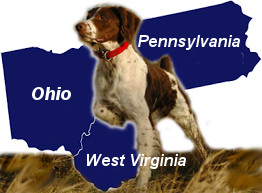 The International Brittany Club
Ohio - Pennsylvania - West Virginia
Home of The The International Brittany Championships and Classics
STANDARDS
RESULTS
ARTICLES
CONTACT
HOME
THE TR-STATE BRITTANY CLUB IS A REGIONAL CLUB
OPERATING UNDER THE SANCTION OF
THE AMERICAN BRITTANY CLUB AND THE AMERICAN KENNEL CLUB
RESULTS 2008
---
2008 International Gun Dog Classic & Amateur All-Age Classic Results

By Lisa Pollock
The Tri State Brittany Championship Association held it's International Open Gun Dog Classic, and Amateur and Open All Age Classics on March 18th- 29th, 2008. The Regional Classics, sponsored by the American Brittany Club, were held at the Jackson Hunting Range, in Jackson, OH. The new grounds are thanks to the efforts of Sam Borst and Jim Winnen. Although they were quite primitive, the grounds turned out to be a great place to show off big running gun dogs and all-age dogs alike. After some last minute modifications to the courses, we began the Gun Dog event on Tuesday morning, judges Ed Kerr and Jerry McGee in the saddle. Of course, Mother Nature had other plans. After 3 very soggy braces, we called it a day. The forecasted rains that produced flooding conditions throughout the Ohio River Valley, forced us to cancel Wednesday's running as well. The sun came out on Thursday, and we were able to run 9 braces. The stake concluded on Monday morning.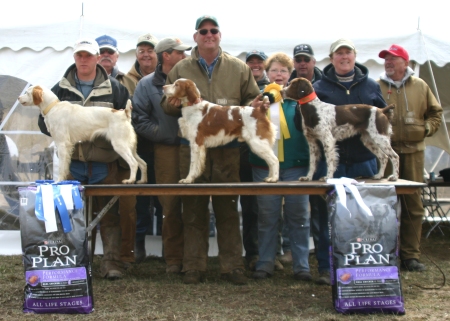 This year's winner was Hybrittin's BJ Betty. The white and orange female is owned by Art and Judy Cohen of Glen Rock, PA and handled by Kyle Merrill. Betty ran in the first brace Thursday morning. Her big run and impeccable style on birds caught the judge's attention early on. Second place went to Ricochet Maggie's Jac, owned by Julie and Mickey Condron, and handled by Bob Burchette. Third Place went to Country Roads Rough Rider, owned by Karen Stout, and handled by Bob Burchette. The forth place dog was Hits Tailor Made, owned by Ralph and Judy Kiracofe, and handled by Judy. The judges commented that the 3rd and 4th place dogs did an excellent job, both having to put up with Tuesday's horrible weather conditions.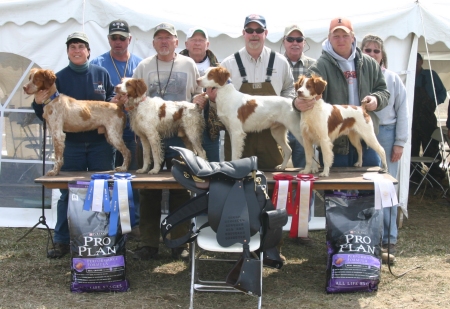 The International Amateur All Age Classic began Monday afternoon, shortly after lunch. The calm, partly sunny skies of the morning gave way to stiff winds and dark clouds. Within fifteen minutes of the breakaway, a snow squall erupted making conditions difficult for dogs, handlers, and the gallery. By the time the first brace was over, so was the storm. Other than occasional strong winds, weather conditions for the rest of the stake remained dry and clear. The judges for the event were Bill VanDeeweerd and Jim Cohen. Mr. Cohen hadn't seen Brittanys run since he judged the Nationals in the early nineties. A former Brittany competitor, now running Pointers and Setters, he commented that he was pleasantly surprised how our breed has progressed.
This year's winner was the Rock II, owned by Paul and Lisa Pollock of Medford, NJ, and handled by Paul. Rock ran a quick forward race and carded 3 stylish finds for his handler. Second place went to Ru-Jems Stop N Watch, owned by Ruth and Jerry McGee, and handled by Jerry. The 3rd place dog was Early Times, owned by Bo and Renae Ackerman, and handled by Bo. Forth place went to Havapal Renagade's Billy Boy, owned and handled by Tommy Thomas. This was not only Tommy's first time running "Billy", but also the first time he handled in a Championship. We look to a promising future for the team.
We would like to thanks professional handlers Ben Lorsenson, Tom Tracy and Jim Winnen, who volunteered to help marshal and plant birds for the Amateur stake. Their efforts took to some of the pressure of the clubs small committee.
The Open All Age Stake began Wednesday afternoon. Partly sunny skies, and temperatures in the fifties. Three braces went to the line, and only one of the six made it around. Despite heavy rains at night, conditions during the running remained fairly dry. Judges Stan Williamson and Bill Landress looked at many fine dogs. In the end, Early Times was named the winner. "Earl" ran Thursday morning, and after he ran, everyone knew he was the dog to beat. Second place went to multi-National Champion, Just Call Me Roy, owned by Tom Ettinger, and handled by Ben Lorenson. The Rock II, owned by Paul and Lisa Pollock, and handled by Tom Tracy was third, and Royal Reverend, owned by Keith Phillips and handled by Lorenson was 4th.
The The International Brittany Championship Association would like to thank Purina for their sponsorship of the events. We'd also like to thank professional trainers Bob and Chris Burchette, Ben Lorenson, Kyle Merrill, Tom Tracy and Jim Winnen for supporting the events. Special thanks to Ed Kerr and Paul Pollock, who volunteered to cook lunch everyday! Thanks to Bill and Beverly Haynes, Brian Hendrickson, and the Kentucky Brittany Club, who trucked in water, and helped with the grounds. But most of all, thanks to Jack Alexander, who was inspired by Ron Zook, to revive these events.
---