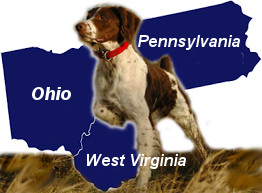 The International Brittany Club
Ohio - Pennsylvania - West Virginia
Home of The The International Brittany Championships and Classics
STANDARDS
RESULTS
ARTICLES
CONTACT
HOME
THE TR-STATE BRITTANY CLUB IS A REGIONAL CLUB
OPERATING UNDER THE SANCTION OF
THE AMERICAN BRITTANY CLUB AND THE AMERICAN KENNEL CLUB
RESULTS 2015
---
2015 International Brittany Classics
The 2015 American Brittany Club International Classics began on March 16 at the Mingo Sportsman Club in Bloomingdale, OH. All three stakes, Amateur All Age, Open Gun Dog and Open All Age were held as AKC Grand Champion Points stakes. Competitors began arriving Sunday afternoon, after the short drive from Dresden, OH where the ABC Eastern Futurity, Buckeye Brittany Club trial, PA Shooting Dog Championship and Ohio Brittany Club trials had come to a conclusion. The Ohio Spring Fling was in full swing as the record-breaking snowfall for this winter disappeared with the onset of Spring!
First and foremost, we would like to say Thank You to our sponsor Purina for their continued support! We not only rely on their monetary support but also appreciate their donation of fine products that keep our Brittanys at the top of their game! The grounds at the Mingo Sportsman Club continue to improve every year. The addition of new stone parking pads made it easier to fit more rigs in the parking area. The staff at Mingo is always on hand to help with any of our needs. Thank you chef Bill McLewis for cooking breakfast and lunch! We enjoyed a great steak dinner, Wing and Fry night, and the Friday Fish Fry down at the clubhouse. Thursday night's dinner was the joint effort of Crystal Alexander and Bill. The Chicken fettuccini Alfredo was delicious! And thank you Sherry Stewart for the great desserts.
This year's judges were Bill Monk and Chris Cantazarite for the Amateur All Age, Chad Sloan and Frank Cavalieri for the Open Gun Dog and Bill Van De Weerd and Joe Orndorff for the Open All Age. The judges in all three stakes commented that the competition was very stiff. So many fine performances were witnessed, but only 4 placements to be had.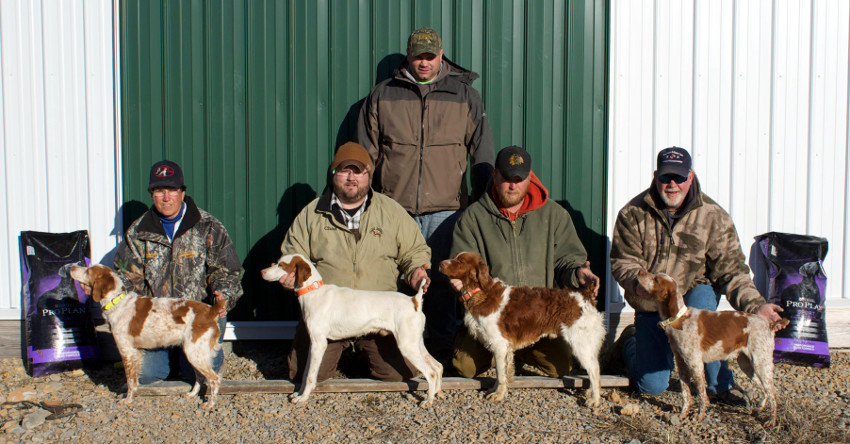 The Amateur All Age stake started on Monday, and concluded on Tuesday. Twenty hopefuls went to the line. The judges commented that the dogs they placed all had excellent application and range. This year's winner was FC/AFC Diamond Hill She's Gone, owned by Lisa and Paul Pollock and handled by Lisa. The 10-year-old roan bitch got stronger as the hour went on. She had 4 finds and a very strong finish. Runner-up honors went to Glad Run Irish, owned by Dave Webb and handled by Tommy Thomas. Irish had 5 forward finds for Tommy. Third place went to Tommy's CH TNT's Sirius Buddy Boy. FC Georgia's Texas Two Step, owned by Travis and Clayton Tangen and handled by Travis was awarded 4th place.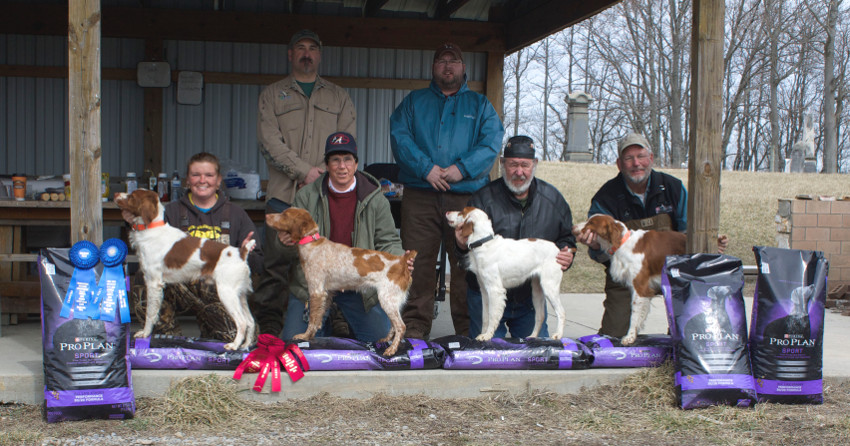 Tuesday afternoon we started the Open Gun Dog stake, held in memory of former ABC President Ron Zook. Twenty-three dogs went to the line for this stake that concluded mid day Thursday. This year's winner was GFC Touch Of Bourbon Little Chug, owned by Tom Wonderling and handled by Bob Burchett. Carson hunted a strong forward race with 5 finds. This consistent young male was bred by George and Cindy McCann, sired by Jerry and Ruth McGee's NFC Ru-Jem's Touch of Bourbon. Runner Up was Lisa and Paul Pollock's Diamond Hill Work Hard Play Harder, handled by Lisa. This young bitch kept the judges attention with her sharp bird work. Bob Burchett handled the 3rd and 4th place finishers Let's Get-R-Done Nellie, owned by Bill Cockrum and John Schlict and CH Richochet Gunsmoke's Mr. Dillon, owned by Mickey Condron.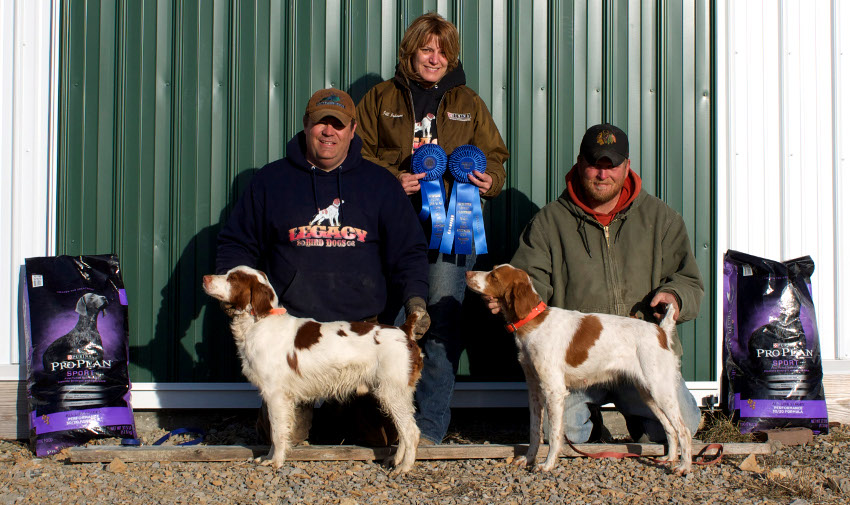 The Open All Age stake began as soon as the Gun Dog concluded on Thursday afternoon. Twenty entries vied for the title. The judges named FC/AFC Hap's Spice Run Beckham Champion commenting on his big forward race. Beckham had 3 stylish finds, two of them were after he had gone missing, found standing to the front. Beckham is owned by Hap Harrison and handled by Jimmy Johnson. Runner up was FC Chancey's Frozen Asset, owned by Jack and Crystal Alexander and handled by Jack. Maggie has 3 finds and a strong finish. Third place was awarded to Glade Run Irish, owned by Dave Webb and handled by Tom Tracy. The forth place finisher was Joe Williams' JJ's Alabaster Angel. Angie put down 2 nice performances this week; this one was rewarded with a placement.
We'd like to thank all the participants that made the trek to Eastern Ohio this year to support our event. We hope to see you back again next spring!
---