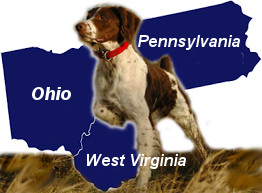 The International Brittany
Championship
An American Brittany Club Regional Classic,
sponsored by the Tri State Brittany Championship Association
STANDARDS
RESULTS
ARTICLES
CONTACT
HOME
CLUB NEWS
---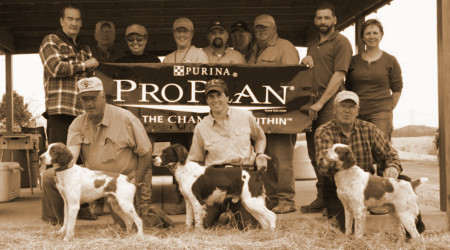 TRI STATE BRITTANY CHAMPIONSHIP ASSOCIATION
presents its 2018 Championship Schedule to be run
MARCH 19 TO CONCLUSION
MINGO SPORTSMAN CLUB
BLOOMINGDALE, OH
— A PURINA POINTS & GARMIN AWARD POINTS TRIAL—

INTERNATIONAL BRITTANY
OPEN SHOOTING DOG CHAMPIONSHIP
One-Hour • Entry Fee: $150.00 • Prizes supplied by Purina
Judges: Chris Catanzarite, Scenery Hill, PA, and Cliff Mesnard, Solon, OH
PREMIUM HERE
followed by the
INTERNATIONAL BRITTANY
OPEN ALL-AGE CHAMPIONSHIP
One-Hour • Entry Fee: $150.00 • Prizes supplied by Purina*
Judges: Tom Oswald, Winnsboro, SC, and John Perry, Claymont, DE
PREMIUM HERE
followed by the
INTERNATIONAL BRITTANY
AMATEUR ALL-AGE CHAMPIONSHIP
One-Hour • Entry Fee: $125.00 • Prizes supplied by Purina
Judges: Stanley Williamson, Louistown, MO, and Bob Youngs, Mechanicsburg, PA
PREMIUM HERE
followed by the
INTERNATIONAL DERBY CLASSIC (Time permitting)
45-Minutes • Entry Fee: $75.00
Judges: To be announced
PREMIUM HERE
*Payout in Open Championships with a minimum of 20 entries
Entries Close:
Sunday, March 18, 6:00 P.M., with secretary Lisa Pollock.
Entries to:
LISA POLLOCK, 305 Medford Mt. Holly Rd., Medford, NJ 08055
Phone: (908) 963-7994 • Email: lpollock60@gmail.com
(Checks payable to Tri State Brittany Championship)
The Tri State Brittany Championship Association assumes no responsibility for participants or spectators in the event of injury or damage to persons or property.
Please contact
Lisa Pollock
if you need any more info
---
Website Gets a Makeover
It has been 14 years since the last time the Tri-State Brittany Club Website had a makeover. So we thought that it was time to bring the website up to date with a better reader experience incorporating features that made the site accessible to both computer and mobile devices. Please bear with us as we update all of the pages. You may experience some problems with the older links as we update the site, but they are being worked on. In the meantime please explore our site and let us know if you have suggestions or want to include any articles or announcements.