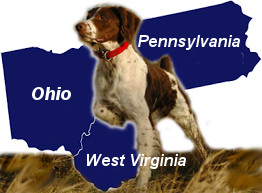 The International Brittany Club
Ohio - Pennsylvania - West Virginia
Home of The The International Brittany Championships and Classics
STANDARDS
RESULTS
ARTICLES
CONTACT
HISTORY
HOME
THE TR-STATE BRITTANY CLUB IS A REGIONAL CLUB
OPERATING UNDER THE SANCTION OF
THE AMERICAN BRITTANY CLUB AND THE AMERICAN KENNEL CLUB
International Brittany Championship
History and The Early Days
---

The International Brittany Classic , was inaugurated in 1968. over the property of Dr. Walker Heap of Watertown, N.Y. This was open country, large fields, formerly dairy farming lands acquired by Dr. Heap over which he began his shooting preserve and field trial grounds. Founders included Frank Ash, Walker Heap, Canadian Bill McClure, Bill and Rita Cartmell and Hank Martinet. Judges were Carl Beattie a notable trainer and handler and Al Pilon a great New England trial person and reporter. There were 14 entries, Jaime's Weego Jill, the winner owned and handled by Jim Malia of Owego, N.Y. Second was Sno Fun Mack, owned and handled by Dr. Heap and third, Jaybee's Little Princess, owner and handler not given in the report.

It was very apparent the founders were working toward something considered better than the trials of the day....which were mainly, all across much of the country.....one course, liberated birds.... birdfield, and handlers generally walked. Ahead was something in which the founders could expect an effort they could label all-age, with horseback handling, and down the road Championsip status. It was pretty apparent their goal was bigger running Britts not handled on foot.

The club staged a second trial in November of 1969 at the Heap preserve, winner Dr. Heap's Sno Fun Mac and Runner-Up Tyoga Sally owned and handled by Bill Cartmell, Carl Beattie and Al Pilon the judges.

In 1970 a three stake spring trial was held and that fall with Championship status, the winner was Jac Pierre's Pride, owned by Jim Cohen, handled by Rick Smith and Runner-Up was Whohe of Bordeaux owned and handled by Jim Malia. Judges were Al Pilon and Jack Fitzpatrick.

The club staged another spring trial in 1971. I was invited to judge and report the 1971, second Championship renewal, by my good Canadian friend Bill McClure from Ottawa, Ontario, Canada's capital city..... a person I had known some years .....both of us participating in the trials of the Ontario Bird Dog Association.

I met for the first time Dr. Walker Heap of Watertown, N.Y. who owned the two dairy farms we ran the trial over. He had purchased the properties and converted them to a shooting preserve where Pheasants were the game bird and former pastures and crop fields grown up with weed cover provided the venue. It was an excellent place to test a Brittany bird dog. Dr. Heap's method of putting Pheasants on the courses relied on the structure of his spacious Pheasant pens. As I remember the pens had a fence ten feet or so high, and when a bird could fly over the fence that bird was out on the course. The birds were much closer to "natural wild" than if they had been grabbed from the pen moments before the brace and then liberated.

The people who founded this club and staged it were memorable. Walker Heap was the host landowner and he ran dogs, furnished a clubhouse and was very involved in the daily running of the braces. The Conables, Ella and Lloyd, the Cartmells, Bill and Rita, Jim Malia and others were putting the event on. Handlers Rick Smith, Jim Holman, Mark Appleton, Ernie Facer were there competing. There were 20 Britts in that 1971 Championship field, won by Carey's Freckles handled by Terry Cleary with Jamie's Weego Jill, Runner-Up handled by Jim Malia. Judges were Jack Fitzpatrick and Dave Fletcher.

In 1972 I repeated as judge and reporter, teamed with another of my great friends Truman Cowles. We placed a wonderful Britt, Tondee's Sandy Valley Duke, a New England dog handled by his owner, the one-armed Steve Tardy. Duke was a very good dog and Arthur Curtis and I placed him Winner in the ABC Quail Classic at Richmond Kentucky, a year or so later. There was no Runner-Up named in the 1972 International, although Brandy's Bullet ran a superb hour. His downfall was he was a Texas dog and knew practically nothing about running Pheasants. His owner Bill Norvell was present. Also in attendance were a pair of Brittany ladies, wonderful personalities enjoying the trial from their motor home, Maizda Van Deusen and Dicie Speck.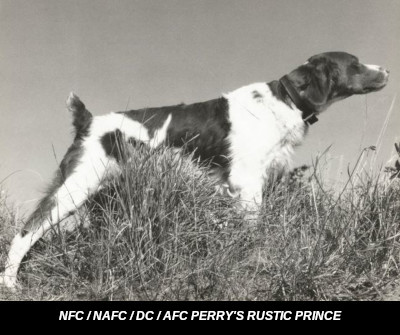 The trial continued to be a fixture on into the middle seventies. In 1973, Judges Truman Cowles and Bob Abric placed Perry's Rustic Prince Champion, with no Runner-Up, over the SnoFun grounds with an entry of 14. Brandy's Bullet, Pacolet Cheyenne Sam, Sno Fun Mack, Jacolet's Wandering Star were in the starting field. New faces were Ben Tobiason and Howard Tutton.


In 1974 the Championship field grew to 36, judged by Bob Abric and Dave Fletcher. Winner was Perry's Rustic Prince, owned by Lester May and handled by Rick Smith. The previous five years had also featured spring events staged by the International Club.



In 1975 the judges were Dr. Tom Flanagan and Dr. Walker Heap. The new Champion was Goldtone's Doc, handled by Marc Appleton with Runner-Up Ringo De Britt handled by Rick Smith. The entry included Senator TJ, Chip Britt Jill, Tex's Air Man and Dr. Scott's Tough Enough. Dr. John and Judy Webb were present.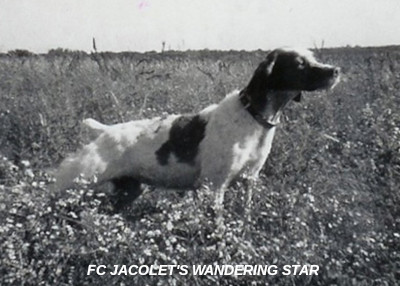 The 1976 fall Championship was judged by Dr. Tom Flanagan and Irving Clark, again held at Evans Mills. The winner was Jacolet's Wandering Star, owned by Paul Hinch and handled by Rick Smith.

Things were getting tougher for the trial to continue at Watertown, N.Y. It was a long way from home base for trainers in Oklahoma and Illinois driving to Watertown, N.Y. Gasoline was getting expensive and travel over long distances by the major pros who competed was taking a toll.



The club moved the Championship event to Baldwinsville, N.Y. in 1977, an agreeable move by all the participating pro handlers. I took over the club presidency that year, but horseback all-age Brittany trials were not blossoming east of the Mississippi, at least in that era. The 1977 running had 9 entries and was judged by Irving Clark and Elwin Hendrick. Perry's Rustic Prince won the Championship, with no Runner-Up named.

The 1978 renewal at Baldwinsville was planned for September 20, but a lack of entries prompted myself as President, along with the Conable and Cartmell Directorate to cancel the event.

The International Club had a somewhat modest treasury but it was passed on to a group that volunteered to carry on the Championship. In 1981, Bill Cartmell placed an American Field kennel fixtures ad for the International Brittany Field Trial Association, with the trial slated for Clarksburg, N.J. April 2nd, but no display ad or report was found to substantiate that the event was run.

The International did not stage trials from 1979 through 1985.

In 1986 a field of 23 Britts competed for the International title at Washington, Indiana. Jack Hires and Jim Cohen were the judges and Warren Montgomery trial chair and secretary, with the Greater Indianapolis Brittany Club as host. Winner was Viking's Yankee Dandy owned by Alan Johnson, Jr., handled by Rosco Staton, and Runner-Up Far Out Bandit, Breuggeman listed as owner and Jim Holman, handler.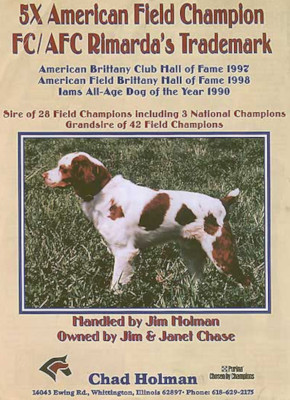 There was no data available for the years 1987, 1988 and 1989. In 1990 Rimarda's Trademark was the winner, owned by Jim and Janet Chase, handled by Chad Holman, and if I might be bold enough to say bred by Dave Fletcher, writer of this article. Runner-Up was Foot, owned by Dr. John and Judy Webb and handled by Lloyd Budd. The Championship was staged at Petersburg, Indiana, on the Pike County Bird Hunters Club, had an entry of 27 and was judged by Dan Tooker and Dr. Robert Rankin.


Seven more inactive years followed for the International. In 1999 the International Brittany Championship stake was revived and run at Glendale, Indiana. Winner was Gambler's Ace In The Hole, Ed and Donna Janulis, owners, Chad Holman, handler. Runner-Up was Rimarda's Mad Max owned by Jim and Janet Chase, also handled by Chad Holman.


Glendale was also the site for the 2000 International Championship with an entry of 20 in one-hour heats. Winner was Lane's End Bowtie Annie owned by Tom and Judy Robin, handled by Chad Holman. Runner-Up was Blazing Rebel Joe owned by Jim Fornear, handled by Chad Holman. Judges were Clarence Conner and Charles Kinney.

Glendale was the site in 2001 for a third consecutive year at Montgomery, Ind., the Championship won again by Lane's End Bowtie Annie, handled by Chad Holman, with Buddy Jack Runner-Up owned by Ed Sawicki and handled by Chad Holman.



And the story continues…. By Lisa Pollock



The Mingo Sportsman Club in Bloomingdale, Ohio has been called by some the "Prairie of the East". Members of the club who had a passion for field trials began grooming the rolling hills of reclaimed coal mining land for field trials in the early 2000's. By 2004, former ABC President Ron Zook, along with members Jack Alexander and Bob Szymanek had over 1000 acres of the grounds shaped into what has become one of the few places East of the Mississippi where All Age dogs can be run. They enlisted a little financial support from Paul Pollock and along with the entries of Pro Trainers Ben Lorenson and Tom Tracy Jr., The International Brittany Open All Age Championship was resurrected.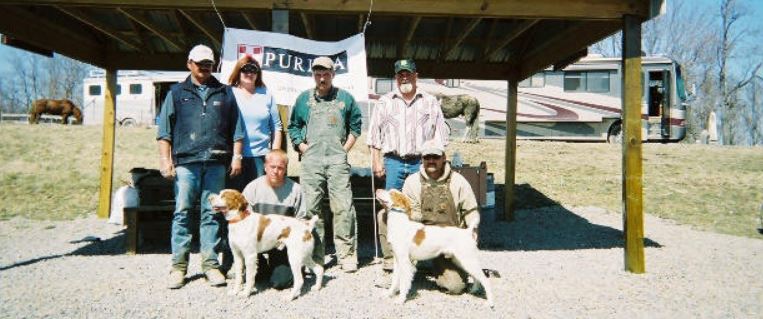 In March of 2005, after getting approval from the American Field, The Open All Age Championship was held. Approval was also granted for an Amateur All Age Classic. Nineteen entries went to the line in the open stake, 22 for the Amateurs. NFC/2XNAFC Just Call Me Roy, a future Hall of Fame inductee, handled by Ben Lorenson was named Champion in 2005. Winner of the Amateur All Age Classic was Bob Symanek's Holliewood Magic Man. The International Championship was back in business.

In 2006 the ABC began sanctioning American Field Championships as Regional Classic, giving the winners both American Field and AKC placements. The Amateur All Age Stake was also recognized that year as an American Field Championship, and a Shooting Dog Classic was added to the cluster, held in Memory of Ron Zook . The Shooting Dog stake became a Championship in 2009. Trialers enjoyed the extra hour stakes giving them a challenging course to qualify dogs for Nationals.

Construction of a gas well in the next few years left the grounds with some disruption of the course. For the next few years the International did some moving around. Jackson, OH, Thayer, IA, and Waynesboro, GA were all hosts for the event. In 2014, the International was moved back to the Mingo grounds and has been going strong since.

Please visit the web site for the International Brittany Championship to see more details on the history since 2005.
www.internationalbrittany.org


---
All web site content is copyrighted by the The International Brittany Club. Site maintained by Vic Williams / assi-cad.com