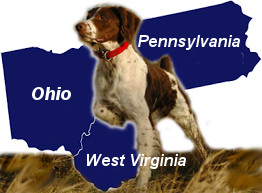 The International Brittany Club
Ohio - Pennsylvania - West Virginia
Home of The The International Brittany Championships and Classics
STANDARDS
RESULTS
ARTICLES
CONTACT
HISTORY
HOME
THE TR-STATE BRITTANY CLUB IS A REGIONAL CLUB
OPERATING UNDER THE SANCTION OF
THE AMERICAN BRITTANY CLUB AND THE AMERICAN KENNEL CLUB
CLUB NEWS
---
RESULTS 2019
2019 International Brittany Classics

It was 51 years ago when the inaugural running of the International Brittany Classic (American Field) was held in Watertown, NY. The Classic was granted AF Championship status in 1970. The International is one of the oldest Brittany Championships, unfortunately, there were years that the Championship was not held. The structure of the event has changed somewhat, but the Open All Age stake is still the highlight of the week!

The 2019 running of the International Brittany Championship/Classics were held March 18-23 on the grounds of the Mingo Sportsman Club in Bloomingdale, OH. Spring actually arrived on time this year and conditions throughout the week were near perfect for running bird dogs! As always, there are many people to thank for their efforts to put on a trial like this. Starting with our Sponsor, Purina. The donation of dog food for our winners and their financial support contribute greatly to the success of our trial. I'm happy to report that all the dogs crowned Champion and Runner-up at this trial are fueled by Purina Pro Plan!

Joining us this year on the judging panel in the Shooting Dog Classic and Derby stake were American Brittany Club President Ed Janulis and Leroy Long. When we had a last minute judge cancellation in the Open All Age Championship, Lee volunteered to fill the spot and judged with Jim Wallace. Brain Sanchez and Anthony Rusciano made the long drive through torrential rain on the east coast to judge our Amateur All Age Classic. We thank these gentlemen for their hours in the saddle.

The Mingo grounds were in incredible condition! The work that was going on last year on the gas wells was completed at the end of last year which almost eliminated traffic on the back roads. The few trucks that passed through were very respectful of our presence, a big thank you to them! Road guard/dog wagon drivers Gene Stewart, Bill McLewis and Paul Pollock did a great job of getting dogs to the line on our continuous course. They were always available between braces to share snacks and beverages. Gene was also up early to plant the morning birds, and switched from dog wagon driver to bird planter while we ate lunch. Bill McLewis kept us all fed well. With Bill's help the club put on a steak dinner on Wednesday and Fish fry on Friday night. Thanks again guys!

Our entry was smaller than normal in the Shooting Dog Classic due to a prior judging commitment of professional trainer Bob Burchett. This year's winner was Roustabout All In, owned by Bo Ackerman and handled by Tom Tracy. "Al" ran in the first brace, he had 2 finds while making wide casts to the front. Diamond Hill Work Hard Play Harder, owned by Paul and Lisa Pollock, handled by Lisa, was this year's Runner-Up. "Gin" had 3 finds with a good forward race. John Perry handled Marjo's Fille De La Bretangna for Robert Goldman to the third place finish and Vince Anderson's young dog High Velocity Copper Magnum rounded out the field.

The Derby stake hosted some very impressive young talent! Tom Tracy and Joe Williams showed up with a good portion of the entries. This year's winner, WW's Gin and Tonic is the littermate to last year's winner. Ginnie is owned by Burton Wise and handled by Tracy. Steve Ralph's Prairie Wind Pistol Pete place second, also handled by Tracy. Joe Williams' Jowill's Daniel in the Lion's Den, sired by his "Levi" placed third, and Tom Tracy handled Ru-Jem's Dirty Dingus McGee for owner Jerry McGee to forth place. We look forward to seeing these youngsters in the winners circle in the near future.

Twenty entries went to the line in the Open All Age Classic, but it wasn't until the last brace that the Champion was named. Jerry McGee's Ru-Jem's "Last' Penny came to the line coming off her US Open win and Region 4 Runner-Up win. She filled the course with 2 stylish finds and plenty in the tank at the finish for handler Tom Tracy. Joe Williams' handled his Levi the Lionheart to Runner-Up honors. Levi ran in the first brace and put on a strong performance that included 3 finds. Until Penny ran in the last brace, Levi was the dog to beat. Tom Tracy handled the third and forth place winners, Castaway Wilson for owner Tim Huglan and Routabout All In for owner Bo Ackerman.

The Amateur All Age Classic ran with a mixed bag of weather, the worst of it happened in the middle of a brace on Saturday. A blinding snow squall almost halted running, but as soon as it started, it was gone, followed by sunshine! Ru-Jem's "Last" Penny, handled by Stan Williamson, finished the stake with another strong performance, and another Championship Win! Penny seems to really like the wide-open country here at Mingo and handled like a dream for Stan. Runner-Up honors went to CVK's Spartan King for owner/handler Jack Alexander. Leo knows these grounds well and showed himself in just the right places. John Perry handled Marjo's Fille De La Bretagne for owner Bob Goldman and his own TJ's Black Diamond to third and forth place finishes.

International Shooting Dog Classic
Tom Tracy with Champion Roustabout All In, Lisa Pollock with Diamond Hill Work Hard Play Harder,
Judges Ed Janulis and Leroy Long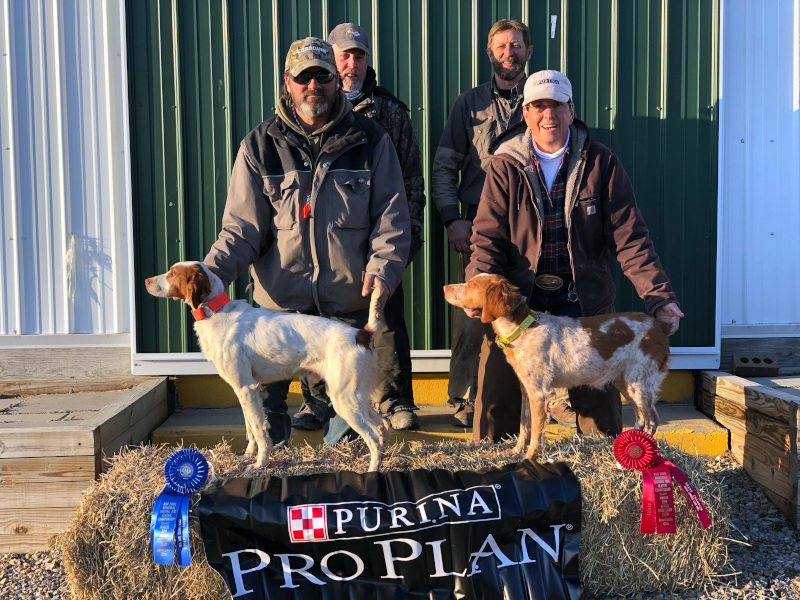 International Derby Classic
Crystal Alexander with WW's Gin And Tonic, Tom Tracy with Prairie Wind Pistol Pete,
Joe Williams with Jowill's Daniel In The Lion's Den, Stan Williamson with Ru-Jem's Dirty Dingus McGee,
Judges Ed Janulis and Leroy Long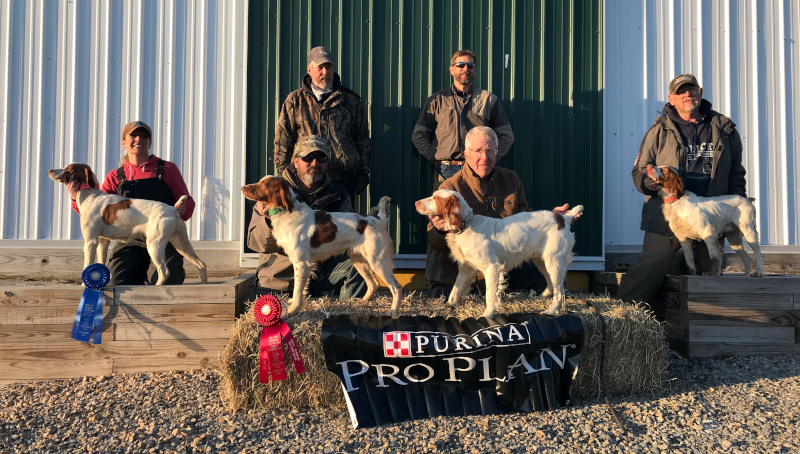 International Open All Age Classic
Tom Tracy with Ru-Jem's "Last" Penny, Joe Williams with JJ's Levi The Lionheart,
Jack Alexander with Castaway Wilson, judge Leroy Long, Crystal Alexander with Roustabout All In,
judge Jim Wallace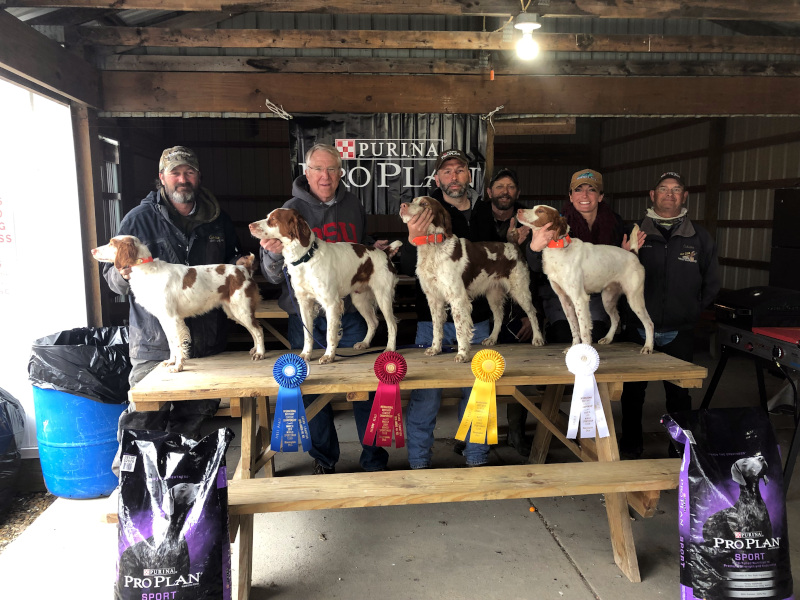 International Amateur All Age Classic
Stan Williamson with Ru-Jem's "Last" Penny, Judge Brian Sanchez,
Jack Alexander with CVK's Spartan King, John Perry with Marjo's Fille De La Bretagne,
Judge Anthony Rusciano, Joanne Perry with TJ's Black Diamond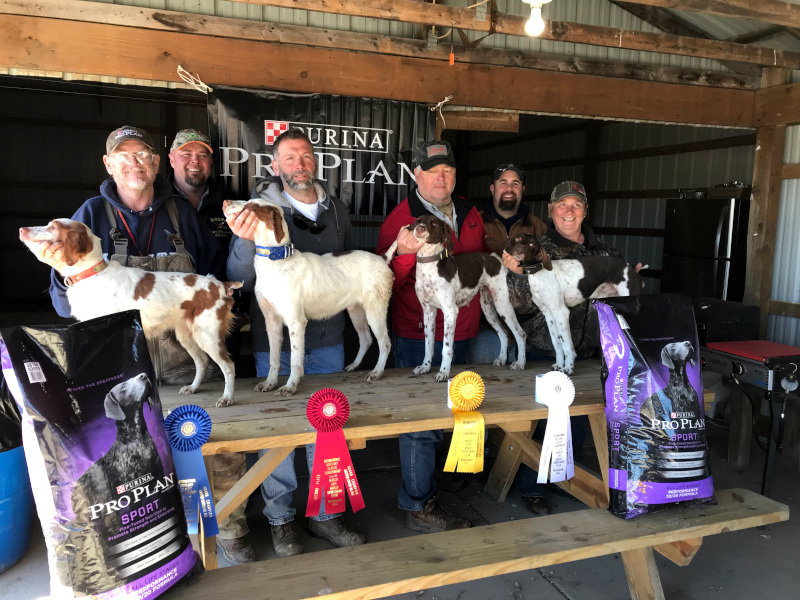 ( DOWNLOAD ALL PHOTOS AT FULL SIZE - FOR PUBLICATION PURPOSES)
---
All web site content is copyrighted by the The International Brittany Club. Site maintained by Vic Williams / assi-cad.com