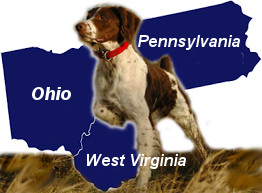 The International Brittany Club
Ohio - Pennsylvania - West Virginia
Home of The The International Brittany Championships and Classics
STANDARDS
RESULTS
ARTICLES
CONTACT
HISTORY
HOME
THE TR-STATE BRITTANY CLUB IS A REGIONAL CLUB
OPERATING UNDER THE SANCTION OF
THE AMERICAN BRITTANY CLUB AND THE AMERICAN KENNEL CLUB
Results 2020
---
REPORT ON THE
2020 International Brittany Classics

The 2020 American Brittany Club International Brittany Classics began on March 16, as the Corvid-19 Pandemic began to explode. A few days before the start, all of the participants were present at the Ohio Brittany Club trial when word came down that this trial was the last one to be held at the Tri Valley WMA field trial grounds in Dresden, OH. All future trials held on State land in Ohio were put on hold until further notice.

Since the International Classics were to be held on private land, with the same small group of participants, the trial went on as planned. There was plenty of room at the Mingo Sportsman Club for everyone to practice "social distancing". Everyone had their own living quarters trailer with little or no need to travel into town except for propane or fuel… and maybe toilet paper if you could find any! Every day we heard more news about how the virus was spreading throughout the Country and how States were shutting down all non-essential businesses. I don't think any of us realized that things would escalate to the degree they are right now, 1 week after the trial. Or worse, what the status of the Pandemic may be by the time this write up reaches the readers.

We'd like to thank everyone that attended to make the trial a success. I'd be lying if I reported that everything went off without a hitch. We had a few last-minute scratches of judges and handlers but managed to fill the voids with qualified people who are local to the area. A very big thank you to Purina for helping to sponsor the event. Their donation of gift certificates for Pro Plan dog food, and monetary support is greatly appreciated. This year's judging panel included Chris Streitenberger, Joe Williams, Lance Felty, Meredith Mays, and Dr. Robert Reynolds.

First up was the Grand Open Limited Gun Dog Classic, held in memory of former ABC President Ron Zook. The weather for both days of the running was as good as it gets! Fourteen very competitive entries went to the line for Judges Chris Streitenberger and Joe Williams. John and Joanne Perry's TJ's Black Diamond had 3 stellar finds with a strong race to be named Champion. Roustabout All In, owned by Bo Ackerman, had 2 finds, a stylish back, and wide-ranging race which earned him the Runner up position for handler Tom Tracy. Lisa Pollock's very young entry, Diamond Hill Ain't My Fault took home 3rd place and 4th place went to Vince Anderson's Magnum High Velocity.

We began the Open Limited All Age Classic under chilly, damp conditions. Meredith Mays and Lance Felty bundled up with a threat of rain in the forecast. WW's Miss Wendy Peffercorn, owned by Burton Wice, worked the course at a great range with almost effortless handle for handler Tom Tracy. The two year old had 2 nice finds and was named Champion over her dam, Driving Miss Daisy II. Daisy, also owned by Wice, was piloted by amateur Crystal Alexander. While Daisy is no stranger to the winner's circle, this was Crystal's first placement in championship stake. Tom Tracy handled JWB Artic Cat, owned by Jack Alexander and Crystal Alexander to the 3rd place finish. The weather conditions took their toll on some of the dogs and no 4th place finisher was named.

Heavy rain overnight Thursday, which continued into Friday morning with the threat of heavy thunderstorms in the afternoon postponed the start of the Grand Amateur Limited All Age Classic. Meredith Mays and Dr. Robert Reynolds were in the saddle Saturday morning to render judgement on the 18 entries. This year's winner was CVK Spartan King, owned by Jack Alexander and Dr. Robert Rankin. Jack was on the whistle for "Leo", who had 2 well-spaced finds and a strong race in the hour. Runner up honors went to Diamond Hill Ain't My Fault. "Scout", a two year old bitch, is owned and handled by Lisa Pollock. She had 1 find and made some huge casts, increasing her range as the hour went on. The 3rd place finisher was Brigadoon's Hi Proof Moonshine, handled by John Perry and owned by Ginny and Paul Snyder. Jagoub's Spell Caster, owned by Tom and Debbie Jagielski and handled by Crystal Alexander finished 4th.

We'd like to thank everyone who made the effort to attend and support this year's event given the turmoil going on in the Country right now. We hope to see you all back again next spring!
Ron Zook Open Gun Dog Classic
L to R: Joanne Perry, John Perry with TJ's Black Diamond, Judge Chris Streitenberger, Tom Tracy with Roustabout All In, Judge Joe Williams, Denise Anderson
Foreground: Lisa Pollock with Diamond Hill Ain't My Fault, Vince Anderson with Magnum High Velocity
Open All Age Classic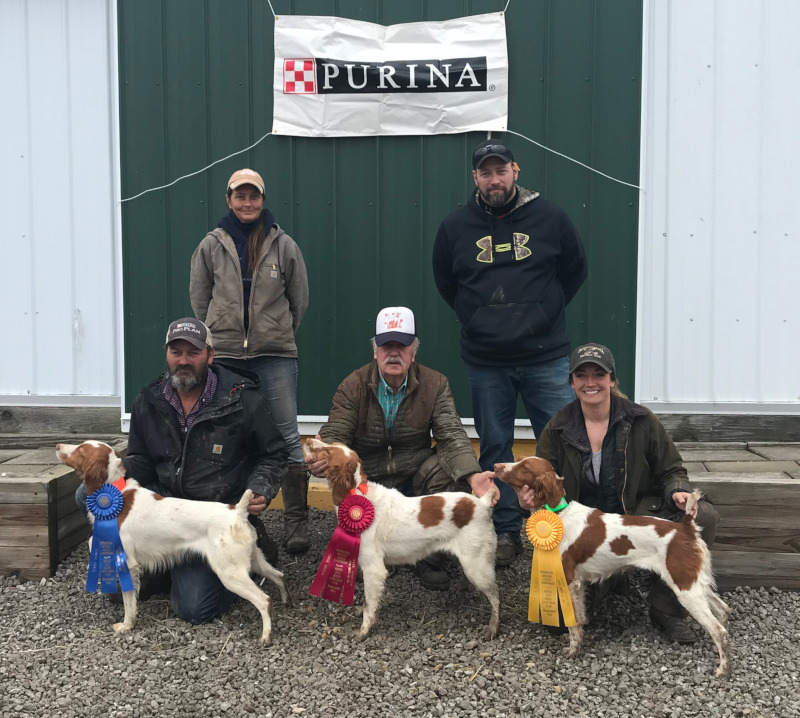 Tom Tracy with WW's Miss Wendy Peffercorn, Gene Stewart with Driving Miss Daisy II, Crystal Alexander with JWB Artic Cat
Judges Meredith Mays and Lance Felty
Amateur All Age Classic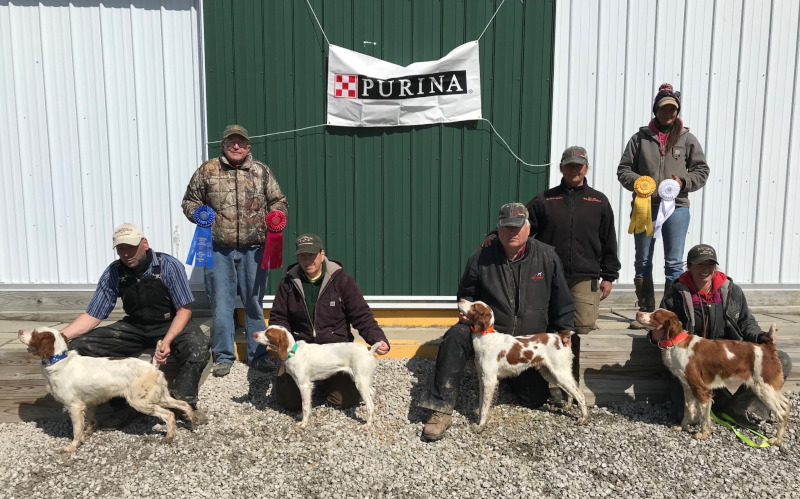 Jack Alexander with CVK Spartan King, Lisa Pollock with Diamond Hill Ain't My Fault, John Perry with Brigadoon's Hi Proof Moonshine, Crystal Alexander with Jagoub's Spell Caster, Judges Dr. Robert Reynolds and Meredith Mays.
( DOWNLOAD ALL PHOTOS AT FULL SIZE - FOR PUBLICATION PURPOSES)
---
All web site content is copyrighted by the Tri-State Brittany Club. Site maintained by Vic Williams / assi-cad.com